Posted: June 30, 2015
Worn: March 19, 2014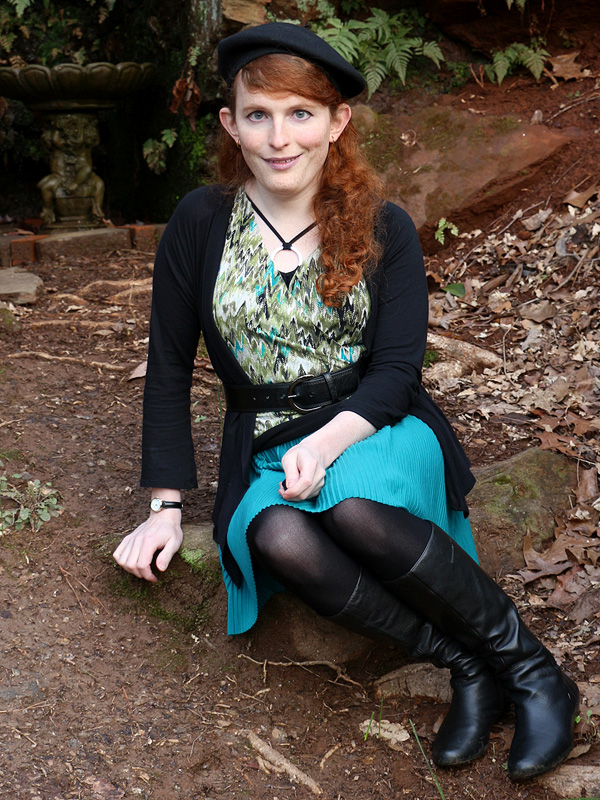 I've worn this top quite a bit over the years and I'm still fond of the hydrid mock wrap/halter design. I'm actually a bit surprised it hasn't appeared on the blog before, but I can figure out why. I've tried to sharply limit the number of posts that consist of a colored top and a bunch of black pieces, which is how I've always worn it before. Once I noticed that the teal accents of the top match my teal accordion skirt, this outfit became inevitable.
This photoshoot debuts on the blog a tiny corner of a huge and fabulous new shooting location that will be important in later posts -- Arlington Cemetary. No, not that one, the one in Atlanta. It isn't as fun for a historian as Oakland, but for style blogging, it's actually better.
BCX tanktop from Macy's, 2006
Alfani black wrap from Macy's, 2009
Grane green skirt from Macy's, 2012
Indigo by Clarks "Proctor" black boots from Footwear Headquarters on Amazon.com, 2011
We Love Colors black tights, 2011
Style & Co. black belt from Macy's, 2010
August "Blossom Story" black beret from Macy's, 2008
Earrings made from jumprings, 2009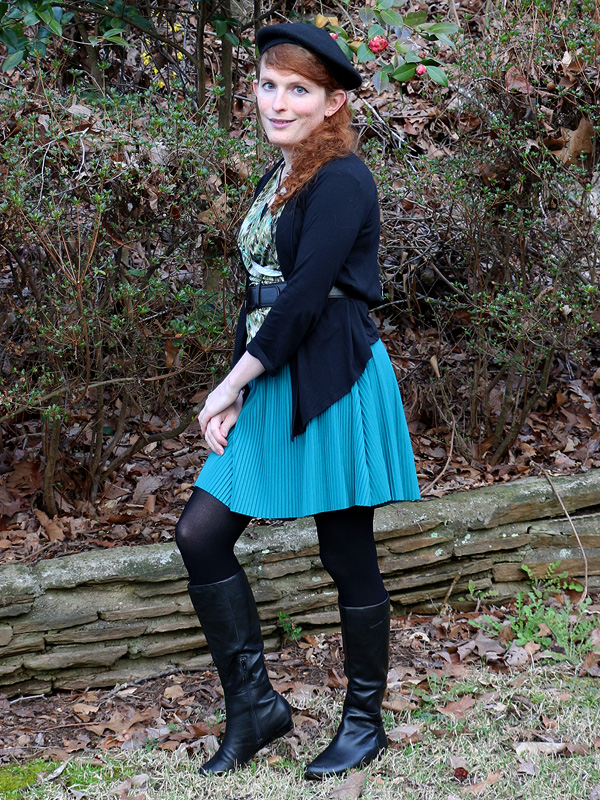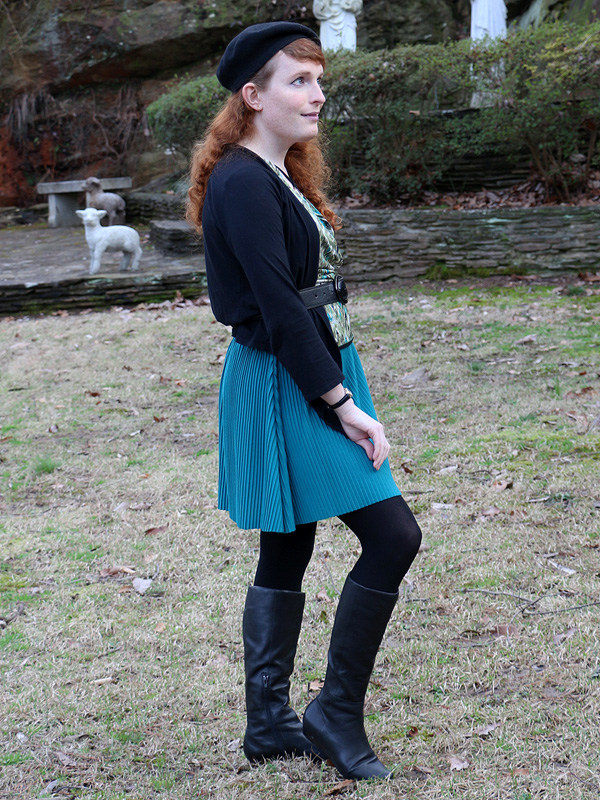 The above shot is my favorite picture from this set and, quite possibly, the one that saved it from being discarded. I don't care for my hair or makeup from this photoshoot, nor many of my expressions, and both the top and the wrap were folding in uncooperative ways in huge numbers of shots. But somehow, this turned out kind of cute.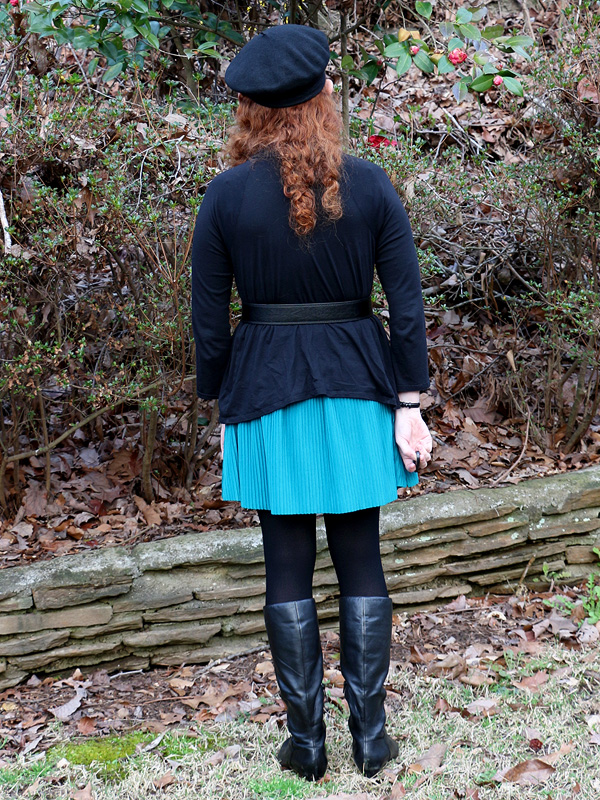 So after more than half an hour of wandering around and shooting in this little outdoor chapel area that was neatly sheltered from the sun despite the earliness of the hour, I decided to do one more photoset up on a dias. I hadn't really thought much about it the whole time, but as I approached, I was beset by sudden dread. I couldn't immediately place the source, so I cautiously kept walking, but the horror kept mounting. Then it hit me. I paused, hesitated, and began a reluctant retreat. Here's the dias: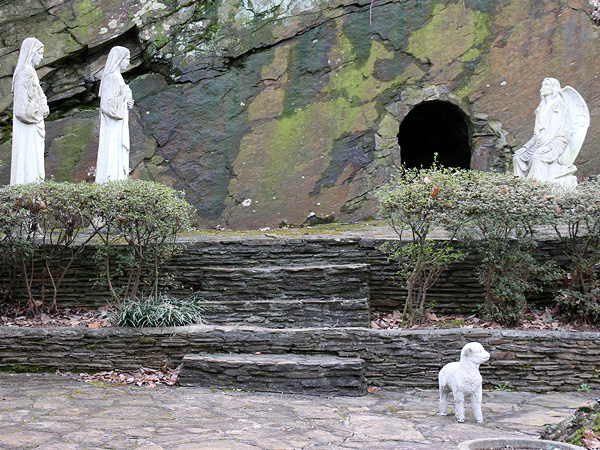 See the problem? Statues! Ordinary, harmless statues. And only one of them with wings.
"Don't blink. Don't even blink. Blink and you're dead."
Darn you, Moffat.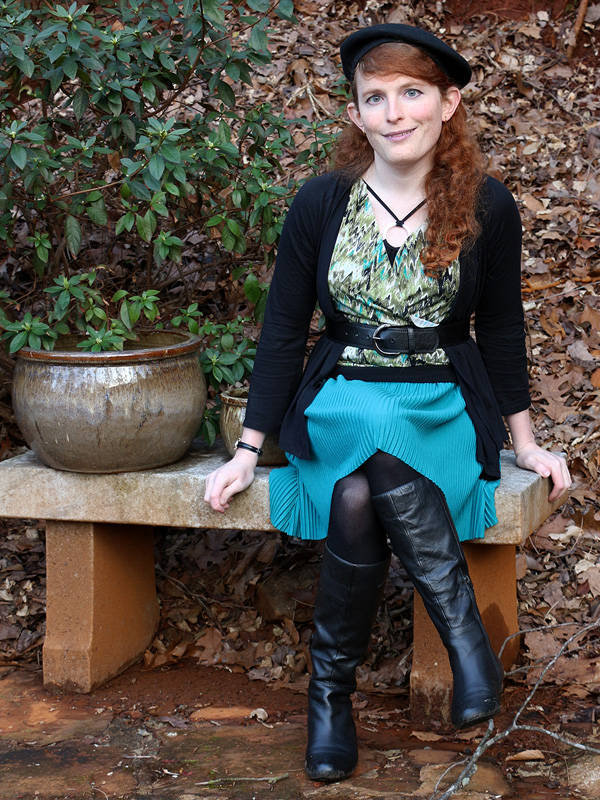 Pictures by Ember