Posted: June 23, 2015
Worn: February 8, 2014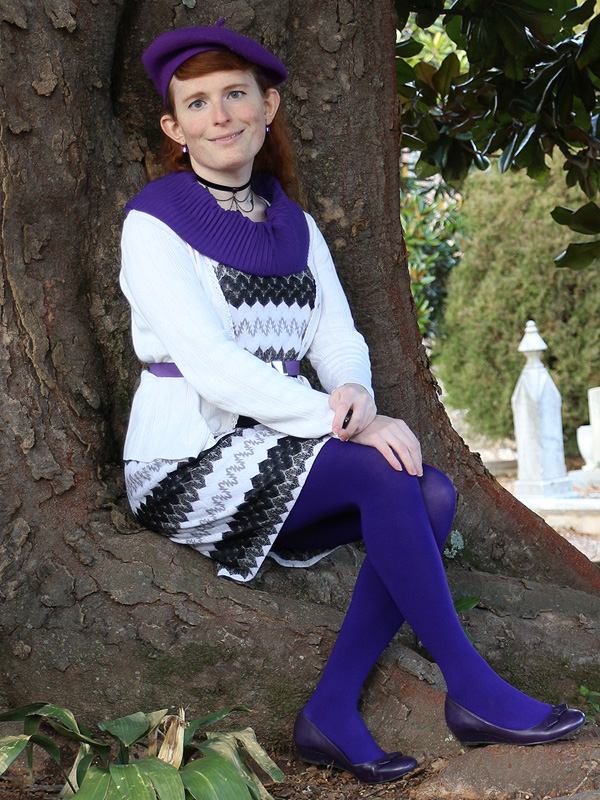 You wouldn't be able to tell from looking at my recent blog posts, but, believe it or not, I used to not care much for purple. Purple has been Lynn's favorite color for many years and she eventually brought me around. I even dyed her hair purple!
My conversion to the purple side was aided by the shortcomings of commercially available clothing. I prefer deep, pure, saturated jewel tones when I can get them. (Apparently I'm a Winter in my own mind.) Being a redhead, I have an affinity for green, but green clothing is usually too yellow, too blue, or too light for my tastes. Whereas I frequently encounter purple in appealing shades.
I've worn this scarf, belt, and pair of earrings on the blog a number of times before and even the beret and necklace once each. And now I've added these purple tights and wedges to my wardrobe as well. Be prepared for a lot more purple outfits to come. (Though, as of writing, I've finally picked up a few great green items too!)
As U Wish dress from Macy's, 2012
Ralph Lauren Polo offwhite cardigan from Macy's, 2003
Scarf made from bottom of True Freedom skirt from Sears, 2012
We Love Colors purple tights, 2013
Vintage interchangeable gold belt clasp, 2011
Purple belt made of Dritz knit elastic from Hancock Fabrics, 2012
Michelle D. purple wedges from Goodwill, 2013
Jh Sports purple beret from eBay, 2012
Purple earrings from eBay, 2012
Purple & black collar necklace made by me, 2012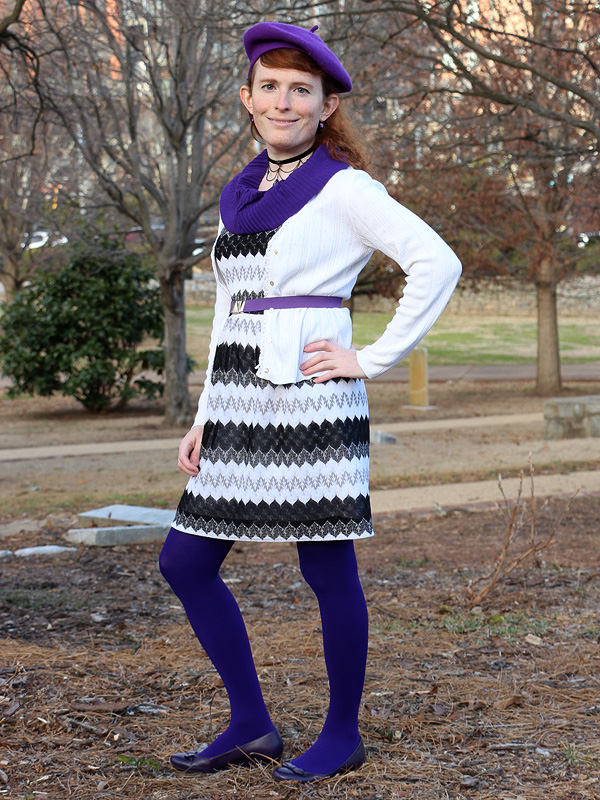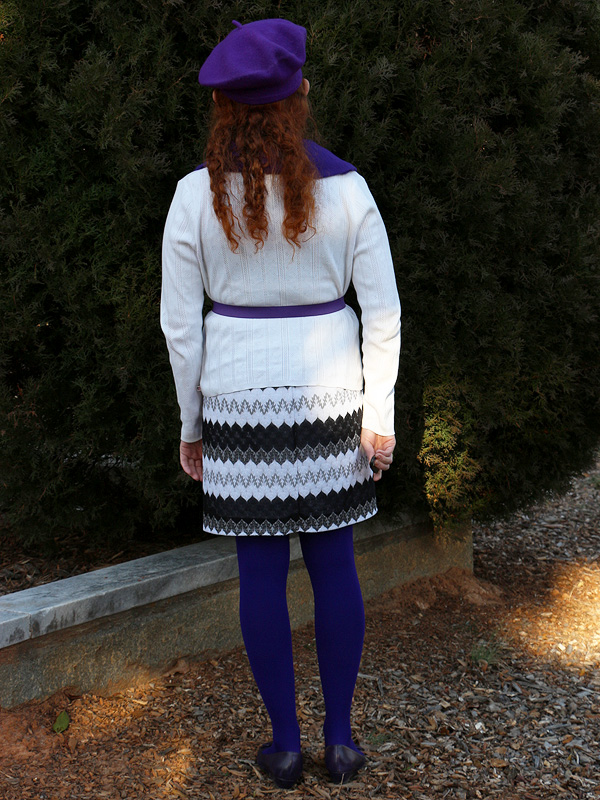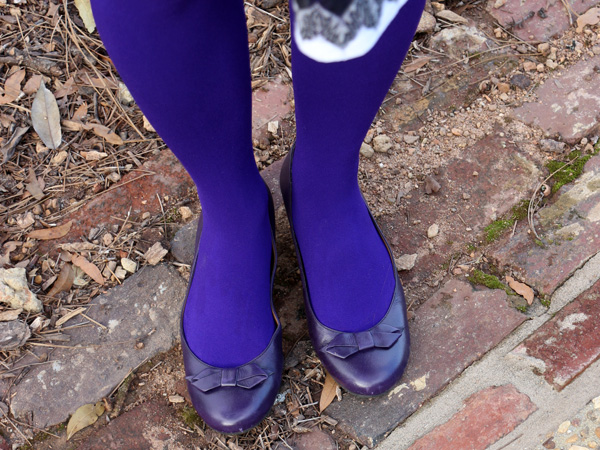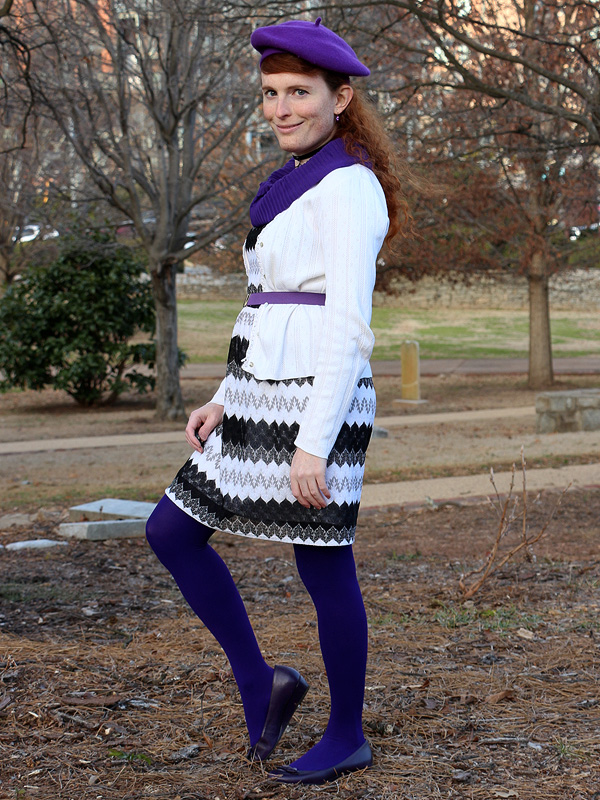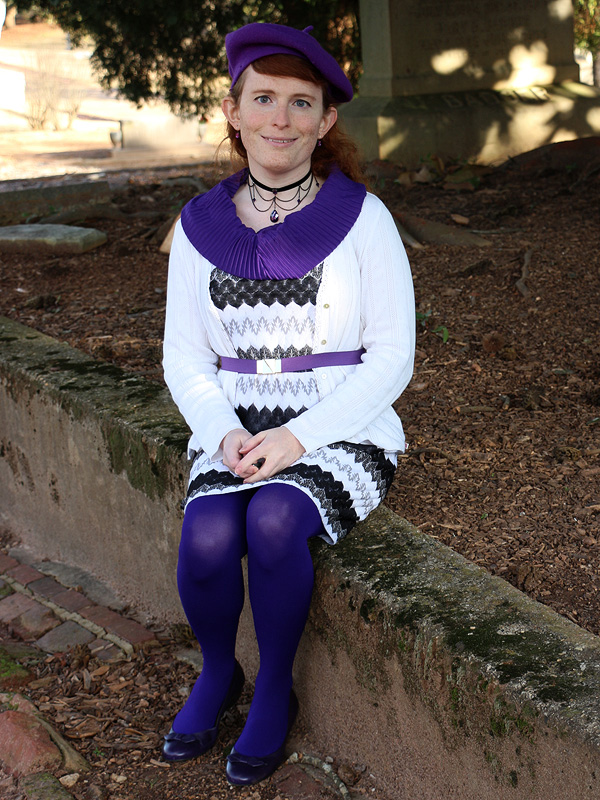 Pictures by Ember